Italian Travel
Is Trieste, Italy Worth Visiting?
How to spend a weekend in Trieste, Italy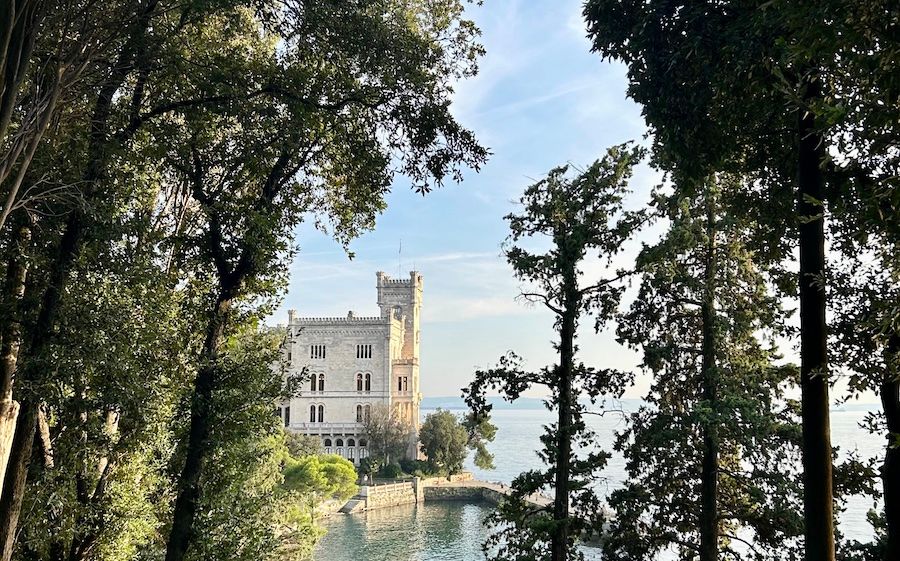 Some of the links in this post are affiliate links. If you make a booking through these links, I may earn a small commission at no extra cost to you.
---
Trieste isn't on the radar for most tourists—or even for most Italians!
I happened to visit this city to complete an intensive twenty-six-hour Italian language course at Trieste's Piccola Università Italiana.
During my one-week course, I lived with an Italian family in Trieste's hill-top town of Opicina—home of the city's famously dysfunctional tram—and I took the bus into the city center each day for school.
Not only did I leave Trieste knowing three new Italian tenses, but I also felt fortunate to spend time in such a beautiful and underrated part of Italy!
The Rich History of Trieste
Trieste is a unique Italian town located near the Italian-Slovenian border, about two hours away from Venice by high-speed train.
Nestled at the crossroads of Latin, Slavic, and Germanic territories, its strategic location along the Adriatic Sea has made it a pivotal hub of trade and cultural commerce for centuries.
How Many Days Do You Need in Trieste?
You really only need 2-3 days to explore the main highlights of the city.
When you arrive in Trieste, you're almost guaranteed to stumble upon some of the major sites, like Piazza Unità d'Italia and the Canal Grande, just by wandering around the city.
However, since Castello di Miramare deserves its own day trip, I recommend spending 2-3 days in Trieste.
Is Trieste Safe for Tourists?
Trieste is an incredibly safe city. Compared to major tourist hubs like Milan, Rome, and Florence, the streets of Trieste are almost always calm and orderly. During my one-week stay as a young female traveler, I didn't encounter a single scammer or uncomfortable interaction with a local.
Many cruise ships dock in Trieste for day trips, so the city is occasionally populated by groups of tourists. However, the city is large enough to accommodate the influx of people; you won't have to worry about long lines or chaotic foot traffic in Trieste!
How to Get to Trieste
Trieste has an international airport and is also accessible by boat, with numerous cruise ships docking along the coast in the spring and summer months.
Thanks to Italy's extensive transit network, Trieste is also easily accessible by train. The city can be reached in 2 hours from Venice, 4.5 hours from Milan, and 1.5 hours from Ljubljana, Slovenia.
Unmissable Spots in Trieste
If you visit Trieste, Italy, I highly recommend visiting the following attractions.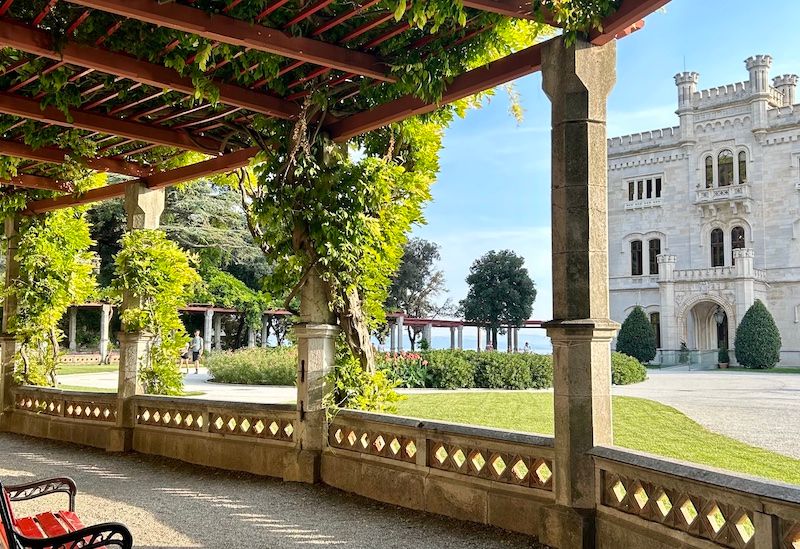 Castello di Miramare is a must-see when you visit this city!
Perched on the Gulf of Trieste, this 19th-century castle is surrounded by a tranquil park offering a variety of exotic plant species. The castle was built for Maximilian of Habsburg and his wife Charlotte of Belgium, and it might be one of the most beautiful castles you ever visit.
As you walk along the castle's numerous pathways, you can watch schools of fish play in the crystal-clear seawater below.
The castle can be reached by train in 10 minutes from Trieste Centrale, and the train ride itself offers beautiful views of the sea and the nearby mountains.
Despite the short commute time, I recommend dedicating half a day or one full day to Castello di Miramare. The castle's interior can be toured for a fee, but the surrounding walkways and botanical gardens are free.
This square, or piazza in Italian, is one of the largest sea-facing squares in Europe.
In addition to being a two-minute walk from the Adriatic Sea, Piazza Unità d'Italia features a unique blend of Austrian and Italian architecture. The buildings are adorned with detailed sculptures and mosaics that artfully reflect the city's history as well as the sunset.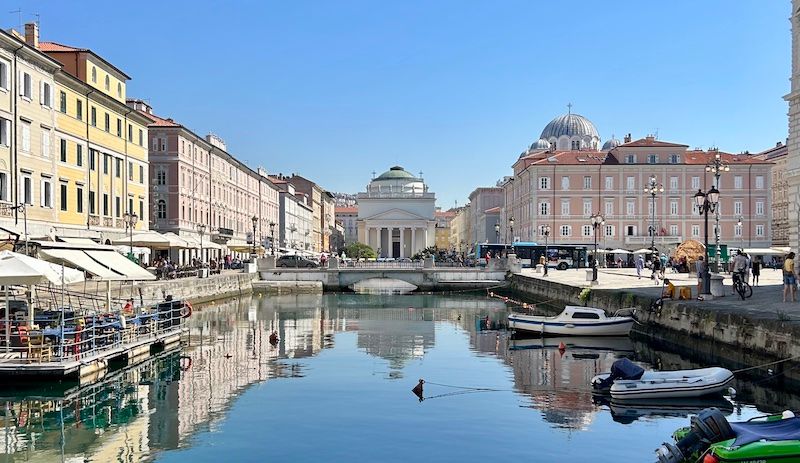 In the heart of Trieste lies the Canal Grande, a picturesque waterway surrounded by historical buildings and elegant bridges. The canal was built in the mid-18th century to enable direct access to the sea for businesses in the city center, reflecting Trieste's booming economy at that time.
In modern times, the Canal Grande serves as a beautiful place to lounge in the sun and drink a "Nero in B", Trieste's signature expression for ordering an espresso in a glass cup.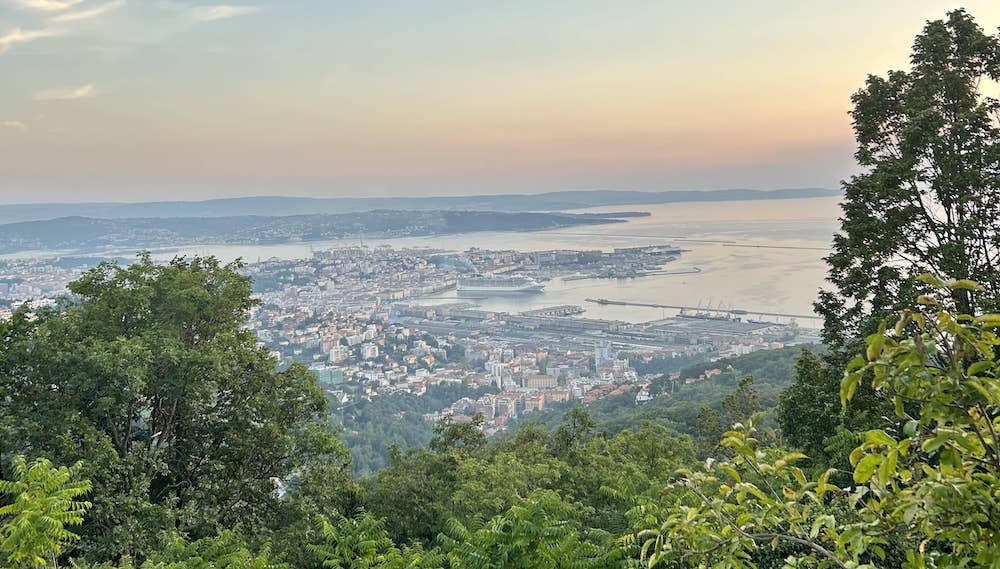 The Obelisco in Opicina doubles as both a monument and a lookout point, perfect for watching the sunset and capturing incredible views of Trieste's gulf and surrounding mountains.
The Obelisco also features a paved walking trail with stellar views, popular among joggers, dog walkers, and couples seeking a romantic date.
To reach the Obelisco from the city center, you can take bus 64, bus 2, or bus 4. There's no need to purchase tickets in advance—you can tap your contactless card on the scanner when you board. The ride takes around twenty-five minutes when departing from the city center.
If you're traveling up the mountain to Opicina, it's worth visiting the nearby Grotta Gigante, which is one of the largest tourist caves in the world.
Featuring an impressive number of stalactites and stalagmites, this cave is open year-round and can be reached by bus 42. When traveling from the Obelisco, the ride takes around twenty-five minutes.
Note: The cave is a bit chilly, so pack warm shoes and a jacket!
Where to Stay
When visiting Trieste, you'll want to stay close to the sea and the historic city center, since this is where the best food and attractions lie. Here are three excellent hotels for every budget type:
3 stars
Perfect for travelers on a budget, Hotel Milano provides comfortable and modern amenities right in the heart of Trieste. Its central location ensures you're only a short walk away from the city's main attractions, like the Roman Theatre and Piazza Unità d'Italia.
4 stars
NH Trieste is located a stone's throw from the seafront and the main square. You'll enjoy scenic views, an in-house restaurant, and a fitness center.
4 stars
Overlooking the Gulf of Trieste, the Savoia Excelsior Palace is a historic hotel that exudes grandeur. With top-tier dining and impeccable service (not always a given in Europe!), you'll be transported back in time while enjoying modern luxuries.
Trieste Travel Tips
Transportation: In Trieste, bus tickets can be purchased on the bus by tapping your contactless card or virtual card on the ticket scanner. There's no need to purchase bus tickets at a Tabaccheria or withdraw cash at an ATM—the public transit system in Trieste is modern and efficient.
Just be sure to tap your card—the fine for riding without a ticket is steep!
Coffee Culture: Compared to the rest of Italy, Trieste has a very unique way of ordering coffee.
-If you want to order a cappuccino, you should ask for a "caffelatte".
-To order a shot of espresso, ask for a "Nero".
-If you want your espresso shot to be served in a glass, rather than a cup, ask for a "Nero in B" (the B stands for bicchiere, or glass).
---
Trieste is one of Italy's underrated gems, and I'm so thankful that my Italian language school brought me to this city.
If you're wondering whether to take a day or weekend trip to Trieste, Italy, don't overthink it—book your ticket! You won't regret it.