Italian Travel
Why Italy's Lake Orta Is Absolutely Worth Visiting
A local's case for ditching Lake Como.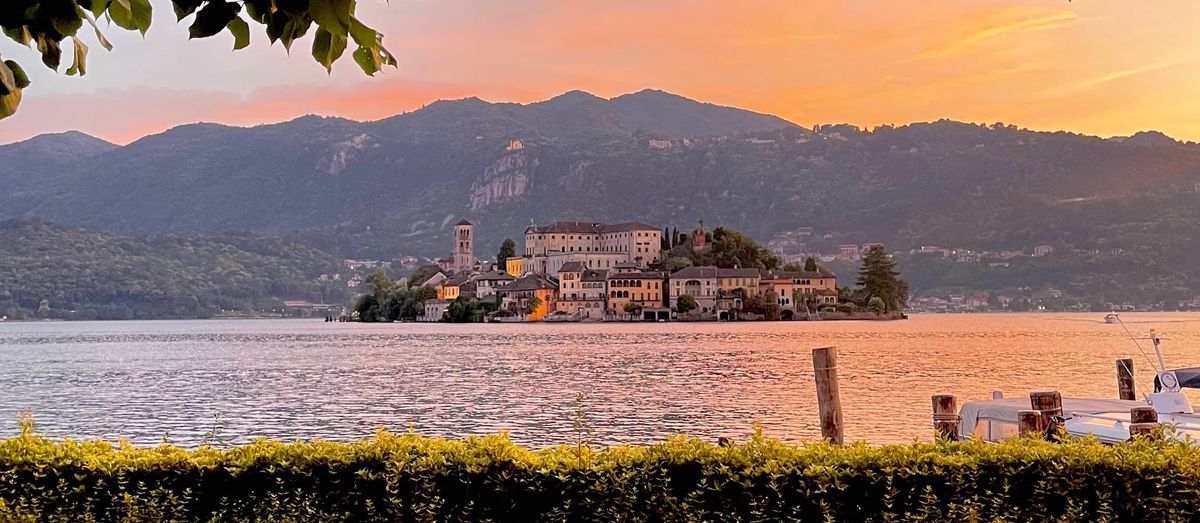 Some of the links in this post are affiliate links. If you make a booking through these links, I may earn a small commission at no extra cost to you.
---
When most people imagine a beautiful and picturesque lake in Northern Italy, they think of Lake Como—and George Clooney's villa. As a Milan local, I think that's a shame.
If you're seeking peace, breathtaking landscapes, and an authentic Italian vibe, Lake Orta—known as Lago d'Orta to the locals—should be at the top of your list.
What's Unique About Lake Orta?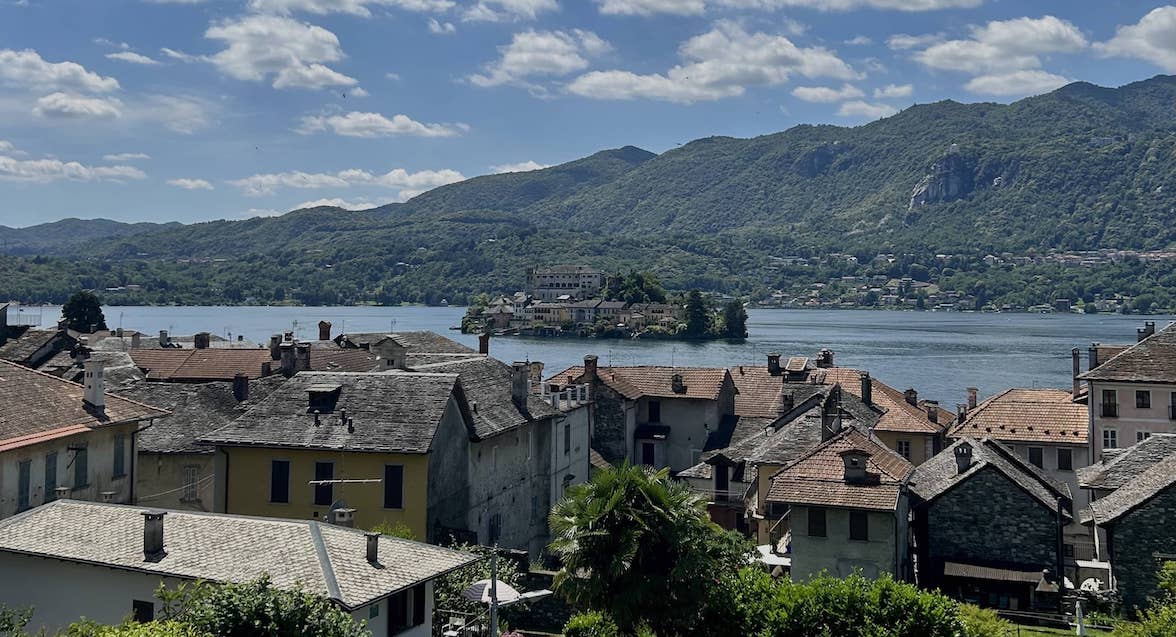 The first thing you'll notice when arriving at Lago d'Orta is the majestic island located in the middle of the lake.
This island, known as Isola di San Giulio, is home to an active, 4th-century monastery. For €5, you can take a boat to the island from the city center of Orta San Giulio. The entire island can be walked in thirty minutes, and there are signs hung among the foliage reminding visitors to respect the monastery's oath of silence.
Tip: If you're visiting the island monastery during the summer months, be sure to bring a cover-up or wear clothing that covers your arms and legs.
Visitors of all genders who wish to enter the island's church must adhere to the monastery's modesty policy.
How do you get to Lago d'Orta?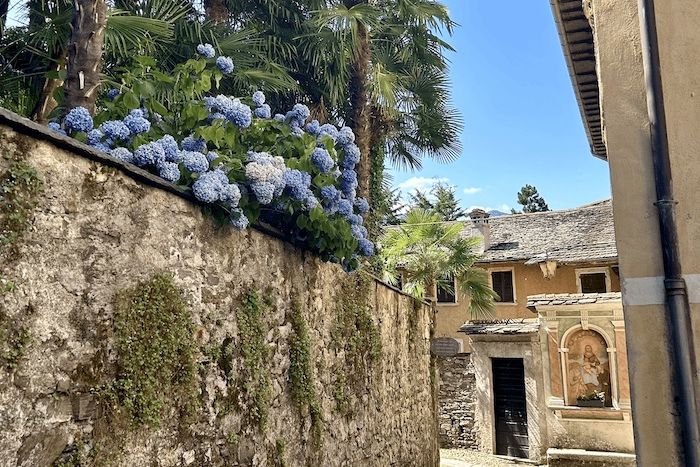 Traveling from Milan
The fastest way to get from Milan to Lake Orta is by car, which takes around 1.5 hours without traffic. It's an easy drive, especially compared to Lake Como. If you have a European-issued driver's license, you can download the ShareNow or Enjoy apps to easily rent an available car in your neighborhood.
Traveling to Lake Orta by train takes about 2 hours and costs €9. The closest train station to the historic city center is called Orta-Miasino, and you can book your tickets here.
Traveling from outside of Milan
If you're visiting from outside of Italy, you can fly into either Milan or Turin. Both cities are roughly two hours from the lake.
From within Italy, the country's excellent train network can bring you within a 10-minute walking distance from Lake Orta's city center. You can purchase train tickets to Orta-Miasino station here.
What to do in Lake Orta
Whether you're traveling with friends, family, or solo, this region offers something for everyone!
Water Sports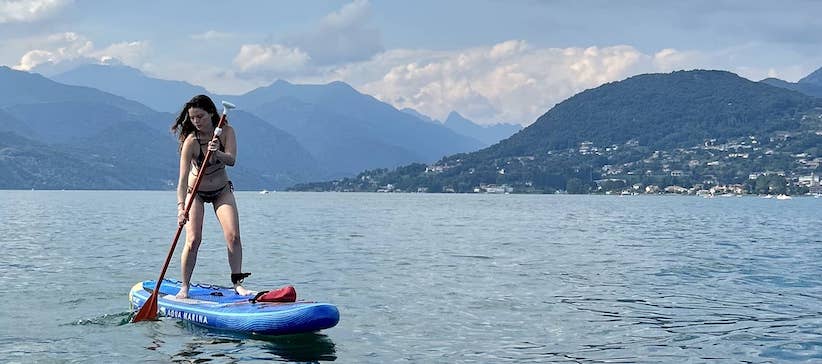 If you're looking to enjoy a peaceful time on the water, there are rental shops all along the lake that provide paddle boards, kayaks, and other equipment. I definitely recommend kayaking or paddle boarding around the island—it's the best way to see the monastery!
It costs around €30 to rent a paddle board for two hours, and you'll receive a water-resistant pouch for your belongings. Life jackets and changing tents are also available.
Swimming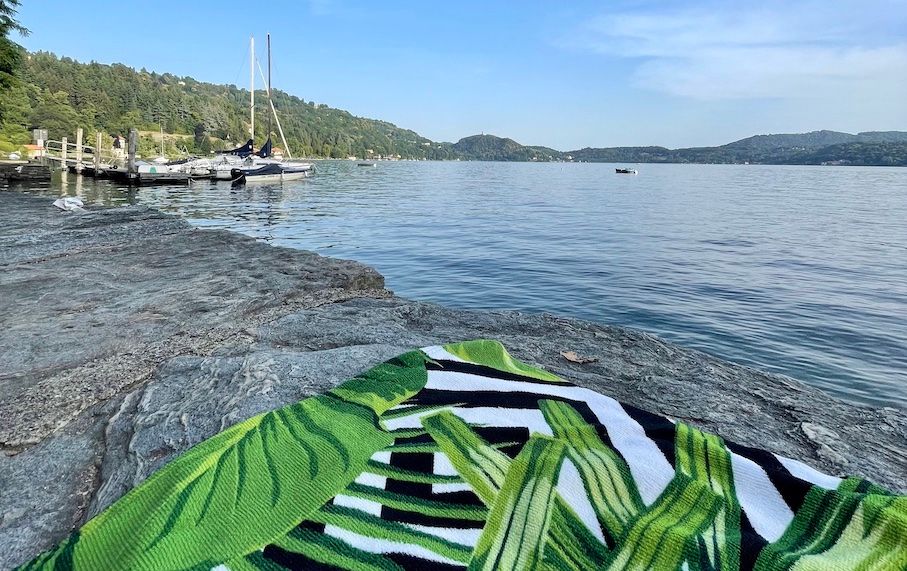 Lake Orta ranks as one of the cleanest lakes in Europe, and its clear water and numerous beaches make it an excellent place to swim.
If you don't want to rent lounge chairs at the beach, you can tan, swim, and enjoy a picnic for free by walking along via Giovanetti Fava. This street is accessible from the city center and features a cobblestone walking path with incredible views of the lake.
When you find a suitable place along the pathway, feel free to lay down a towel and jump in the water!
Boating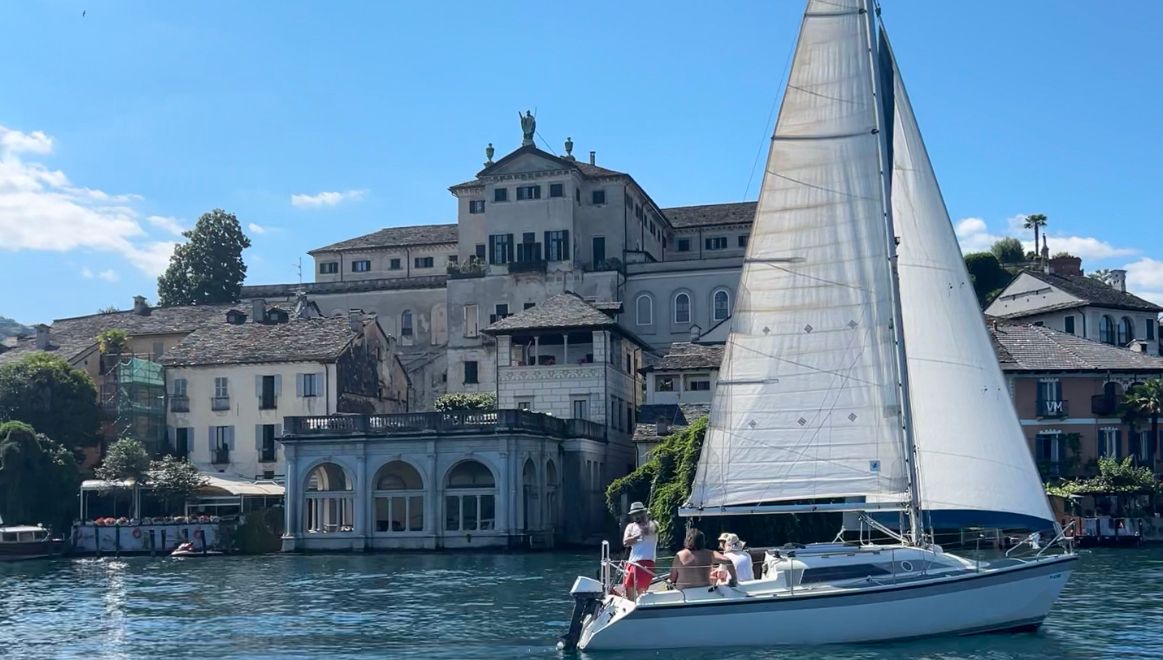 For just €5, you can take a wooden speed boat to the lake's iconic island and monastery.
It's also possible to rent boats of all sizes for recreational activities, sunbathing, and even fishing. Italy does not require a boating license to operate rental boats.
Ziplining
Thrillseekers can book a ride on Lake Orta's very own zipline! The ride takes about 45 seconds and provides a unique view of the lake below.
Hiking
Thanks to the starring jewel of Isola di San Giulio, it's impossible to hike along this lake and catch a bad view. For a detailed list of hikes in Lago d'Orta and their respective difficulty levels, visit the Lake Orta Wikiloc.
Yoga Retreats
Lago d'Orta is home to one of Northern Italy's most popular yoga retreats: Mandali.
Located on a rocky hill high above the lake, Mandali offers a mix of 3, 5, and 7-day yoga retreats with full-board and incredible lake views.
Accommodation in Orta San Giulio
One of Lake Orta's best features is its affordability. Unlike Lake Como, it's possible to snag a lake view here during peak season without breaking the bank!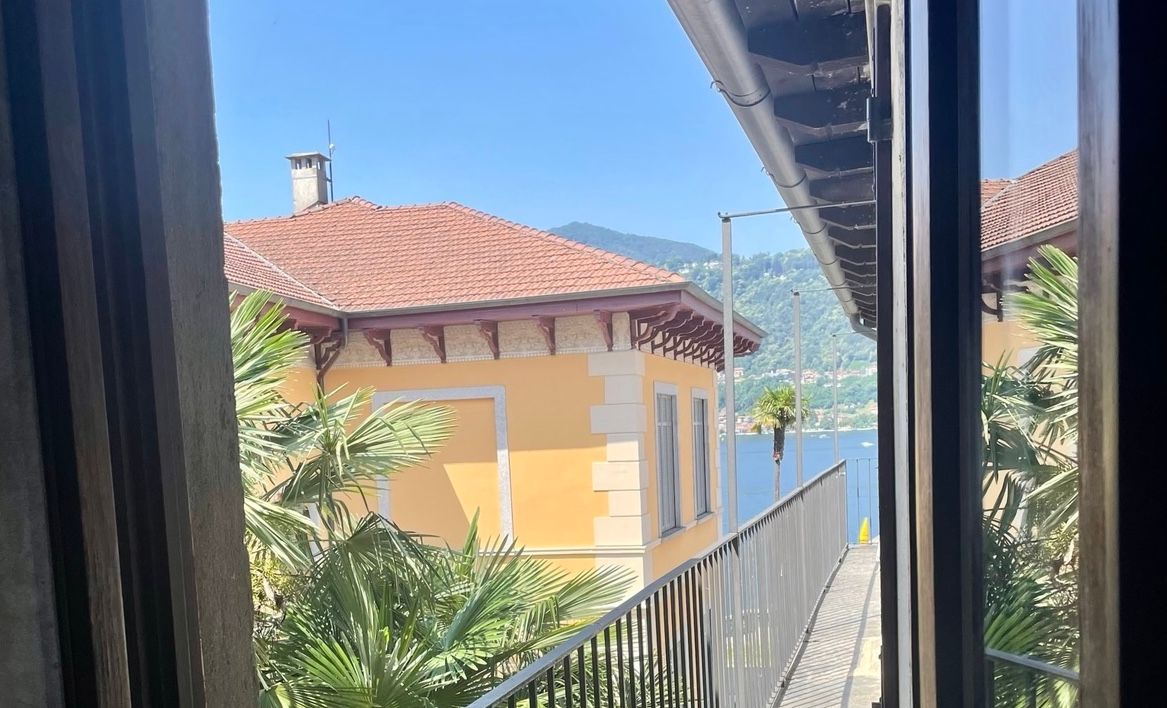 If you're looking for a beautiful and affordable hotel in the city center that's close to the lake, look no further than Piccolo Hotel Olina. The views are stellar, and I found the comfort and cleanliness to be very high for the price.
Camping
For families, students, and Vanlife enthusiasts, Lago d'Orta offers plenty of space for RV and tent camping.
For more of a "glamping" vibe, you can rent a lakeside bungalow for up to eight guests.
Villas
No Italian lake is complete without a decorum of villas, and Lago d'Orta is no exception.
For those seeking a tranquil and cosy stay, consider booking the beautiful Villa Orta.
Large groups of travelers who prefer a more luxurious stay can inquire about Villa Lake Orta, which boasts eleven bedrooms and can house up to twenty-two guests.
---
After visiting Lake Orta for the first time in 2022, I understood why so many Italians had never been to Como!
Lago d'Orta might be Northern Italy's best-kept secret. Whether you're traveling solo or with a group, it's impossible to have a bad time in this special piece of Piemonte.